Leading in 2018: Working with Conflict and Differences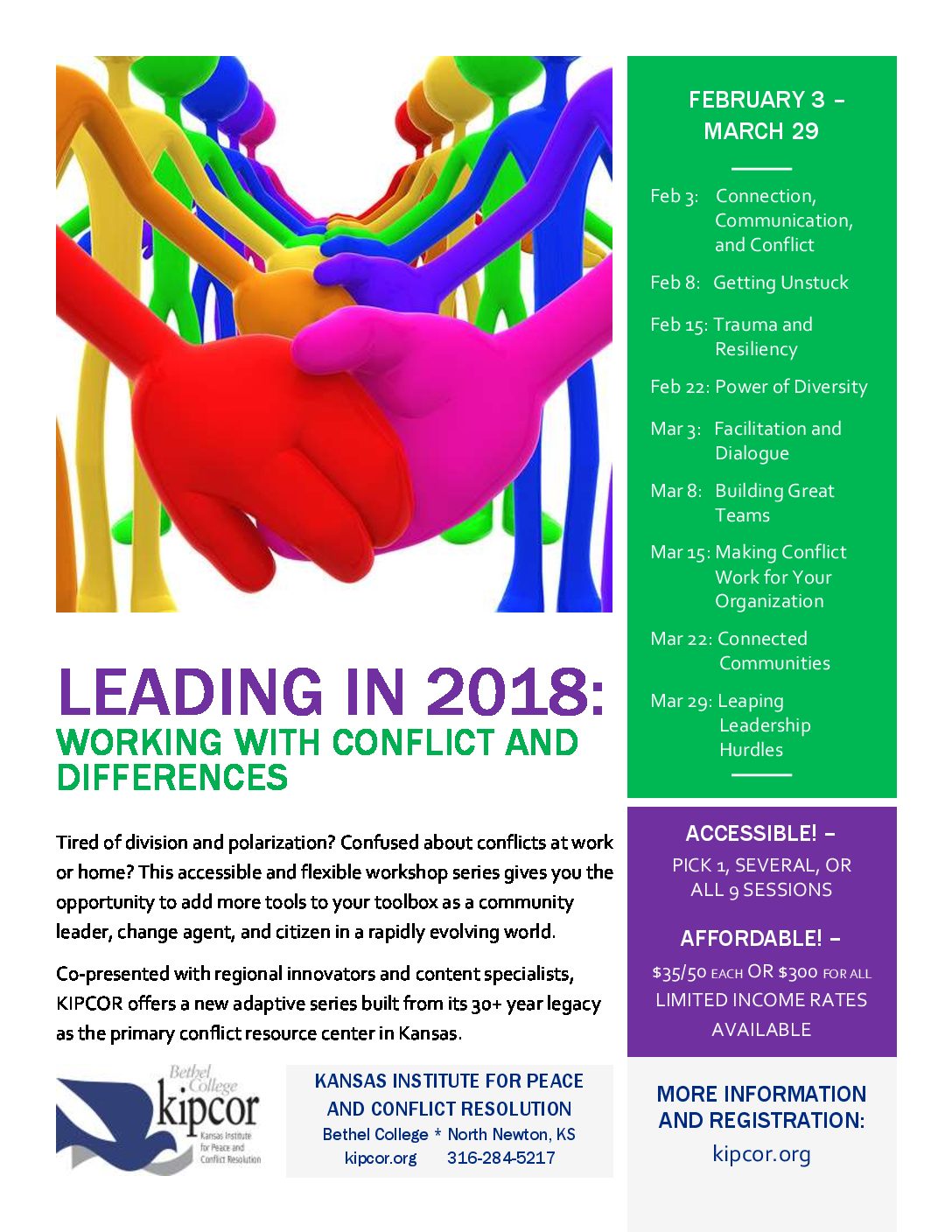 Postponed – Stay Tuned
Tired of division and polarization? Confused about conflicts at work or home? This accessible and flexible workshop series gives you the opportunity to add more tools to your toolbox as a community leader, change agent, and citizen in a rapidly evolving world.
Join us for our first series of classes offered specifically for working professionals. This 9 part series is co-presented with regional innovators and content specialists. KIPCOR offers a new adaptive series built from its 30+ year legacy as the primary conflict resource center in Kansas.
The schedule for the series of sessions is
Feb. 3, 9:00 AM – 3:30 PM, Connection, Communication, and Conflict
If KIPCOR was to synthesize the most fundamental skills taught in our flagship "Managing Interpersonal Conflict" class in a day, this would be that day. Come to this day for the ABC's of communicating when there's tension and disagreement, and recognizing conflict's role in our lives. With KIPCOR's lead training team.
Feb. 8, 6:00 PM – 8:30 PM, Getting Unstuck
Does it often feel like "my way or the highway?" or that there's always a winner and a loser in conflict? Or perhaps you're in the mess of conflict and can't make heads or tails of it? Come to this session to learn some key skills for getting "unstuck."
Feb. 15, 6:00 PM – 8:30 PM, Trauma and Resiliency
Trauma-informed approaches may be increasingly popular these days, but they're also seen to be best practice and are vital for understanding ourselves and the systems we are part of. In fact, trauma awareness can be transformative across diverse settings – at work, at home, and in protracted conflict. Come to learn more about working with the impact of trauma in our lives. With Dr. Joyce McEwen Crane, WSU Strategic Development Coordinator for WSU Center for Community Support and Outreach, coordinating the work of Trauma-Informed Systems of Care.
Feb. 22, 6:00 PM – 8:30 PM, Power of Diversity
Professional organizations may feel political pressure for increasing diversity among employees but the impact and benefit is far beyond appearances. Come to learn skills in cultural competency and how to embrace and work with all forms of diversity in our lives and workplaces.
Mar. 3, 9:00 AM – 3:30 PM, Facilitation and Dialogue
How do you talk when things are tense? How do you run effective meetings with diverse perspectives? How can you host productive conversations across polarized perspectives? This hands-on training day will give you the skills to be a stronger facilitator whether you're coordinating a meeting or helping a group of people discuss their different perspectives and build relationships. With Donna Schenck-Hamlin, co-founder of the Institute for Civic Discourse and Democracy at Kansas State University.
Mar. 8, 6:00 PM – 8:30 PM Building Great Teams
A lot of our workplaces are organized in teams – but how do we improve their effectiveness and power beyond the tired teambuilding games? Come to learn the keys to success for healthy, vibrant, and productive teams. With Next Element, leadership and teamworking experts.
Mar. 15, 6:00 PM – 8:30 PM, Making Conflict Work for Your Organization
A radical concept, but in fact recognizing conflict as an expected part of group process can enhance your productivity, creativity, and end results where relationships AND outcomes are stronger. Come to learn how to make conflict work! With Art Thompson, Mediator; former Dispute Resolution Director for the Kansas Supreme Court.
Mar. 22, 6:00 PM – 8:30 PM, Connected Communities
In our polarized, individualized, and screen-focused world, it's hard to find natural ways to build connectedness on our blocks and in our towns. How do we break out of our silos and why is it important for a successful town, neighborhood, organization, or individual? Come to learn about building these important connections. With Darryl Carrington, Wichita State University Community Liaison.
Mar. 29, 6:00 PM – 8:30 PM, Leaping Leadership Hurdles
Pressured to take the right stance in polarized times? Seeking to lead recognizing that your employees, co-workers, and self are enmeshed in high levels of traumatic stress? Identify key principles to keep you headed in the right direction in these challenging times as a self-reflective leader. With Gregory Cole, Owner, Good Life Company.
Postponed – Stay Tuned