KIPCOR Mission
---
KIPCOR endeavors to strengthen conflict resolution and peacebuilding capacities in the communities and institutions it serves.
KIPCOR encourages research, education, skill development and dialogue to enhance the understanding and practice of managing conflict, and to prepare individuals and groups to be peacemakers in an evolving, complex and often troubled world.
Welcoming participation by people of all backgrounds and religious traditions, KIPCOR and its programs are rooted in Anabaptist/Christian values of reconciliation, service, appreciation of diversity, personal transformation and integrity, and nonviolence and peacebuilding within the context of social justice.
KIPCOR History
---
KIPCOR was founded in 1985 and is one of the oldest regional peace institutes in the United States. The Institute offers an array of resources in conflict resolution and peacebuilding, as well as an extensive networking system for consulting and intervention. Learn more about our roots by watching the video below.
Kaufman House
---
Kaufman House was built in the early 1930s at the beginning of the 20-year presidency of Edmund G. Kaufman and was home to him, his wife Hazel and their two children, Gordon and Karolyn. After Hazel's death in 1948, Kaufman renovated the house's second floor for student housing. He deeded the house to Bethel in 1964 and it served as apartments for older students until summer 2002 when major renovations began in order to turn it into KIPCOR's headquarters, according to the wishes of Kaufman's third wife, Edna Ramseyer Kaufman, and her estate. KIPCOR moved into the house in summer 2003.
Gary Flory Receives Emeritus Status
---
During the opening ceremony of the Inaugural Restorative Kansas Conference in April of 2018, Gary Flory, who served for 19 years as KIPCOR's Director, was awarded Director Emeritus status from Bethel College by President Jon Gering and Dean of Academic affairs Robert Milliman. Those in attendance applauded Gary for his hard work and dedication to peacemaking and conflict resolution.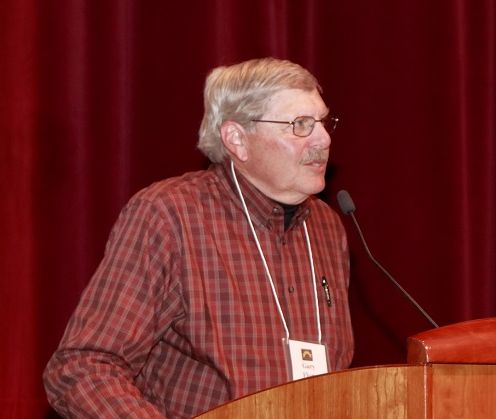 Sarah Balzer wins 2019 Bethel C. Henry Smith peace oration contest
---
The Kansas Institute for Peace and Conflict Resolution (KIPCOR) sponsors the annual C. Henry Smith Peace Oration Contest at Bethel College. This year's winner, for the second year in a row, was Sarah Balzer, senior from Inman, Kansas, who took first place in the annual event with "A Voting Guide for Peacemakers Under Capitalism."
The video and a transcript of her winning Bethel presentation were sent to the MCC for participation in the 2019 Bi-National (US and Canada) contest (which Sarah won in 2018, when she became the second Bethel student in a row to win the Bi-National contest!)  You can see the full story of the 2019 presentation "In the News"; we'll keep you posted on the results of the 2019 Bi-National contest as soon as we have them.