Mediation, Dialogue & Conflict Skills
---
In a world of polarized perspectives, tension, and disagreement, processes and skills to aid in communication, civil dialogue, and conflict resolution are desperately needed. KIPCOR specializes in these processes and skills.
Through a wide variety of workshop trainings, multiple-day courses, and tailored sessions, KIPCOR can help you and your organization or community improve in these processes and skills.
KIPCOR also recognizes that conflict is a regular part of life. When conflict becomes unmanageable or just too tricky for you to navigate on your own, KIPCOR is ready to assist through our staff and associates, and our related training and coaching sessions.
Contact us to explore ways we can partner with you to enhance your skills in dialogue, mediation, or facilitation for those tense and challenging situations we all face.
Interesting past trainings:
KIPCOR announced the following courses for the 2018 – 2019 Core Skills class.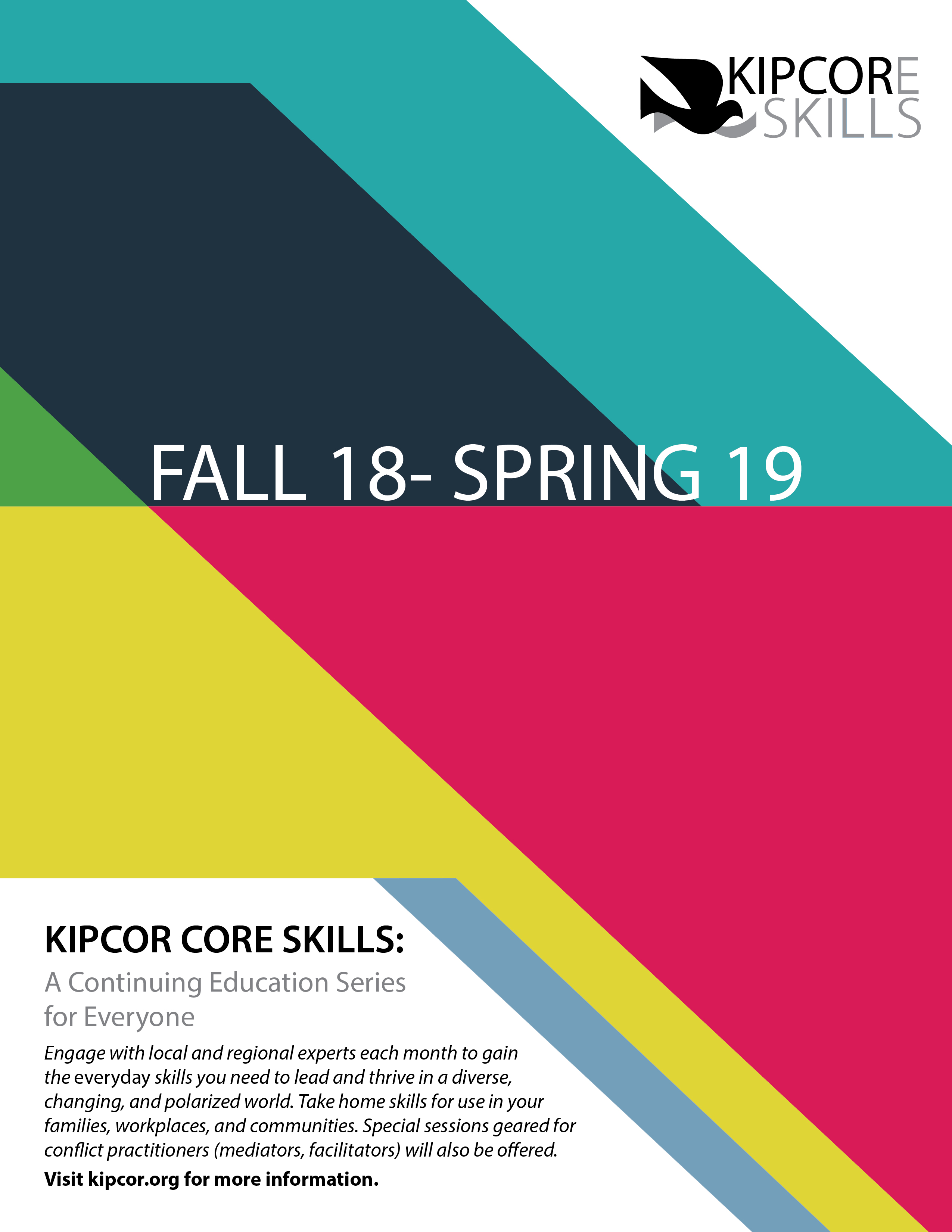 KIPCOR Core Skills classes in 2018 and 2019…

September 13 —  CONFLICT 101
October 11 (afternoon) — Circle Process for Mediators
October 11 (evening) — Communication Skills for Tense Times
November 8 (afternoon) — Workplace Conflict with regional expert, Art Thompson. (postponed)
November 8 (evening) — Facilitating for Productive Public Conversation with regional expert, Donna Schenck-Hamlin. (postponed)
December 6 — Unpacking Diversity Training: A deeper dive toward achieving authentic awareness with visiting expert, Cherise Hairston.
January 17, 2019 — 6:30-8:30pm Teams that Work
February 7 – 1:30-4:30pm Hot Topics in Domestic Mediation: Never-Married Parents, with regional expert Kirsten Zerger. (afternoon for mediators and case managers)
February 7 – 6:30-8:30pm Building a Trauma-Informed Culture at Work and Beyond, with regional expert Joyce McEwen Crane.
March 7 – 1:30-4:30pm Circle Process for Mediators (afternoon for mediators)
March 7 – 6:30-8:30pm Common Sense Justice (Restorative Justice 101)