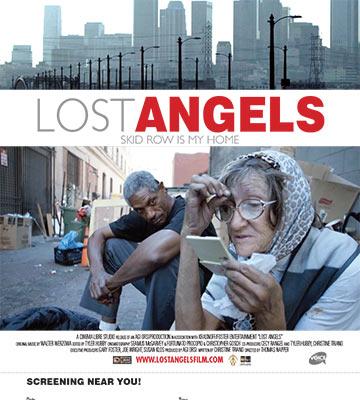 The opening film for this school year's KIPCOR Film Series also opens a series of special events looking at nonviolence and action.
Lost Angels: Skid Row Is My Home screens Sept. 8 at 3 p.m. in Krehbiel Auditorium in Luyken Fine Arts Center.
It is free and open to the public, with a freewill offering taken to support the series and the work of the Kansas Institute for Peace and Conflict Resolution (KIPCOR).
In Lost Angels, actor Catherine Keener narrates the story of eight individuals who have found a way to make a life for themselves with the Los Angeles homeless community.
The film looks at how gentrification, increasing criminalization of homeless people and draconian changes to the U.S. mental health-care system have intensified individuals' "descent into society's basement."
But in addition, Lost Angels also shows how an array of advocates (especially LAMP, featured in the 2009 film The Soloist, starring Jamie Foxx and Robert Downey Jr.) have enabled Skid Row residents to find ways to organize and fight back.
Proactive approaches to homelessness – most specifically, providing housing – are helping people recover from mental illness and substance abuse, and find stability.
Thomas Napper directed the 77-minute documentary, which was released in 2010. He was second-unit director for The Soloist, which is how he first met some of the individuals whose stories are told in Lost Angels.
A talkback session follows the Bethel screening of Lost Angels, with James Wilson, executive director of New Hope Homeless Shelter in Newton, and a member of the Wichita Police Department's Homeless Outreach Team.
The film – the first of four to be shown throughout the school year – also opens the local activities planned in connection with an annual national recognition of nonviolent action.
"[Lost Angels] is an older film, but we are using it as a kickoff event for our collaboration with Peace Connections in Newton to mark national Campaign Nonviolence Week of Action," said Dan Wassink, senior mediator and facilitator at KIPCOR, who coordinates the annual film series.
Lost Angels makes the connection between homelessness and violence, he said. Other activities planned between Sept. 8 and Sept. 22 will connect poverty and violence, as well as give alternatives to the prevalent gun violence in the United States.
Events conclude with the visit of Bethel graduate Palwasha Kakar to campus Sept. 22-26, with a public lecture Sept. 22 at 7 p.m. in Krehbiel Auditorium.
See the KIPCOR website at kipcor.org for a complete list of events with times and locations. All are free and open to the public.
The KIPCOR Film Series is funded in part through the KIPCOR Peace Lecture Endowment. Future films in the 2019-20 series are: Dawnland, Nov. 17; The Great White Hoax, Feb. 9; and TBA, April 19.
Bethel College, a four-year liberal arts college founded in 1887, is the oldest Mennonite college in North America. Known for academic excellence, Bethel is the highest-listed Kansas private college listed in Washington Monthly's "Top Bachelor's Colleges" for 2019-20 and according to Zippia.com, is the highest ranked Kansas small college with the highest earning graduates. For more information, see www.bethelks.edu