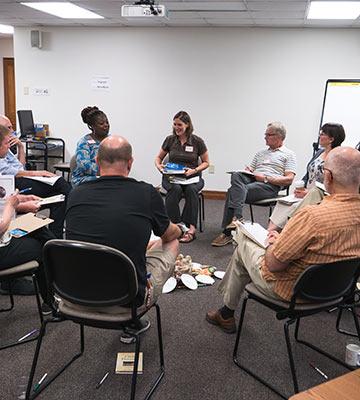 As Bethel gears up to welcome new students, one group of faculty spent a recent morning in circles.
They weren't running in circles – they were sitting in them, learning the basics of the "circle process," with the ultimate goal of transforming conversations on the Bethel campus.
All Bethel freshmen are divided into First-Year Seminar (FYS) groups, each led by a Liberal Education Adviser (LEA). The 2019-20 LEAs gathered at the office of the Kansas Institute for Peace and Conflict Resolution (KIPCOR) to hear about circles (sometimes called talking circles) from KIPCOR staff and spend time practicing the process.
"Circles are often used in the process of restorative justice," said Sharon Kniss, KIPCOR director of education and training. "They have been part of indigenous cultures for millennia."
She noted that there are various ways to do the circle process, and the one KIPCOR uses and teaches "most closely resembles that of the Plains people – the first people to live where we now do."
Circles help create a safe space that gives every discussion participant an equal chance to speak and also encourages careful listening.
Each circle has a facilitator or "circle keeper" – in this case, the LEAs – who helps create a tone of openness and guides the group in setting any ground rules they want for their discussion.
KIPCOR's kind of circle employs a "talking piece" that gets handed from one person to the next. Only the person holding the talking piece is allowed to speak, and they can also choose to pass.
John McCabe-Juhnke, professor of communication arts and one of this school year's LEAs, suggested that the LEAs be introduced to the circle process as a way to foster more constructive discussion, especially on hard topics.
"We had been talking about ways to push anti-racism work forward on campus," McCabe-Juhnke said. "For the second year in a row, our common text in FYS is The Hate U Give [a young-adult novel centering on a police shooting of an unarmed black youth].
"The circle process is designed to help groups talk about difficult issues. But I think it's helpful in other ways, in terms of developing a sense of class community."
"In almost every class, there's someone who tends to dominate conversation," added LEA Barbara Thiesen, co-director of libraries. "I think this might be useful for [creating] more of a shared discussion, along with the option to pass.
"I also noticed that when you have the talking piece, you have the floor, and when you don't, your responsibility is to listen. It's an invitation to be present in the moment."
"Circle process is highly adaptable, even though it's rooted in indigenous culture and practice," Kniss said. "It's a good tool for conversations about race that are typically tense, uncomfortable and emotional."
The circle process can "help keep these conversations going, as well as build community on campus," she said.
Her co-trainer, Sheryl Wilson, KIPCOR executive director, said, "I've been moved and challenged by the stories of the struggles our students face. I think [circles] get at the root of much of that. They're a way to help build relationships and create positive space in that fragile first year.
"Even after so many times hearing circles described, I get a feeling of reverence," she continued. "When done right, it's transformative. It can be that for us and for our students. We have the power to do amazing things, and transform our culture."
Bethel College, a four-year liberal arts college founded in 1887, is the oldest Mennonite college in North America. Known for academic excellence, Bethel is the only Kansas private college listed in Washington Monthly National Universities-Liberal Arts section for 2018-19 and U.S. News & World Report's Best National Liberal Arts Colleges 2018. According to Zippia.com, Bethel is the highest ranked Kansas small college with the highest earning graduates. For more information, see www.bethelks.edu