"Widening the Lens of Nonviolence" 2019 Campaign Nonviolence  National Week of Action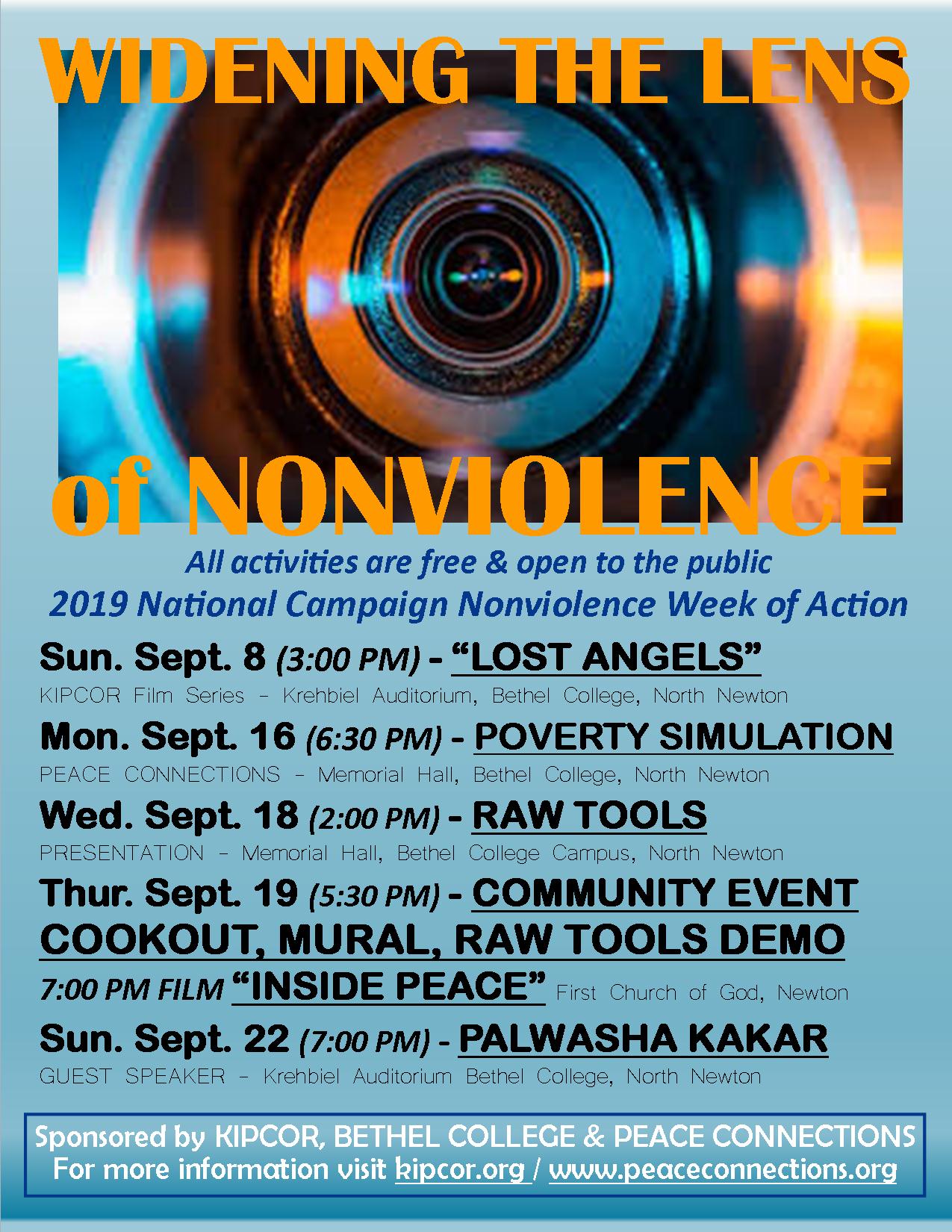 KIPCOR is joining with Peace Connections and  the Bethel College Office of Student Affairs to present a series of events for the 2019 Campaign Nonviolence National Week of Action. Please join us for these events!
All activities are free & open to the public    
Sunday Sept. 8 (3:00 PM) – "LOST ANGELS"
KIPCOR Film Series – Krehbiel Auditorium, Bethel College, North Newton
This highly-acclaimed film examines the plight of the homeless through the eyes of eight individuals trying to make a life for themselves within their Los Angeles community of homelessness.  The filmmakers show how a descent into life on the streets is often accelerated by the criminalization of homeless people, and changes within the mental health care system. Poverty is often overlooked as a symptom of violence.
Following the film, we invite you to stay to offer your comments and ask questions. Our post-film discussion will be led by James Wilson, Executive Director of the New Hope Shelter in Newton; and by a member of the Wichita Police Department's Homeless Outreach Team.
Monday Sept. 16 (6:30 PM) – POVERTY SIMULATION – PEACE CONNECTIONS – Memorial Hall, Bethel College, North Newton
Fast-forward through a month in the life of a family living with low resources Participate in guided role play. Discuss realities and the violence of poverty. Be part of the solution!
Wednesday Sept. 18 (2:00 PM) – RAW TOOLS PRESENTATION – Memorial Hall, Bethel College Campus, North Newton
In this presentation during Bethel College Service Day, Raw Tools will do an interactive presentation. RAWtools, Inc. partners with communities in an effort to repurpose weapons for productive lifelong purpose. The materials from the weapon will be forged into new tools. Each weapon will be connected to its new purpose, creating a story that will travel with the new tool.
Students, faculty, staff, and members of the public will have the opportunity to share stories of the impact of gun violence. Students will also have an opportunity to work with Raw Tools to create the garden tool and any unused parts will be made available to students to create art pieces.
Thursday Sept. 19 (5:30 PM) – RESIDENT MURAL COMMUNITY COOKOUT & RAW TOOLS DEMO; 
(7:00 PM) FILM "INSIDE PEACE" First Church of God, Newton
Following an early evening cookout and presentation by the group Raw Tools, we will move inside the church for a screening of the film, "Inside Peace."
This 57-minute documentary focuses on four convicted criminals whose pre-incarcerated lives were filled with violence and addiction.  During their time in prison, these individuals attended a Peace Class and began a struggle to rebuild their lives from the inside out.  Thanks to the class and the support of people inside and outside prison, these men began to discover and rely upon their own self-worth and inner strengths.  Their efforts were put to the ultimate test once they were released from prison and were faced with the same roadblocks and temptations that led them to prison in the first place.
Sunday Sept. 22 (7:00 PM) – PALWASHA KAKAR, GUEST SPEAKER –
Krehbiel Auditorium in the Luyken Fine Arts Center,  Bethel College, North Newton
"Women's Role in Ending Violence and Building Peace: Reflections from Afghanistan and the U.S Institute of Peace"
Palwasha L. Kakar is the senior program officer for religion and inclusive societies at the U.S. Institute of Peace (USIP). Kakar's distinguished career began in Newton, KS where she earned a degree in Religion and Global Studies from Bethel College, and served as director of the Newton Peace Center (now Peace Connections). Kakar went on to earn a Masters degree focusing on gender, politics and religion from Harvard University's Divinity School.
Kakar's career has included significant engagement in Afghanistan, impacting a wide range of peacebuilding initiatives. Before joining USIP, Kakar, an Afghan-American, worked in Afghanistan with the Asia Foundation, the United Nation Development Program, World Bank Group, Kabul University, and the Afghanistan Research and Evaluation Unit. While in the region, Kakar specialized in peacebuilding initiatives related to religion, gender, security and local governance.
Kakar has published research regarding women's participation in local governance, Pashtunwali-Afghan customary law, Afghan women's identity, and social spaces in Afghanistan. Her research has taken her to Afghanistan, Pakistan, Bangladesh, Egypt, Israel, Palestine, Jordan and Syria.
Please visit this page frequently for the most up-to-date information on these events.
All events are sponsored by KIPCOR, Peace Connections, and Bethel College Student Affairs