Click here for new information about Leonard Pitts Jr. Peace Lecture!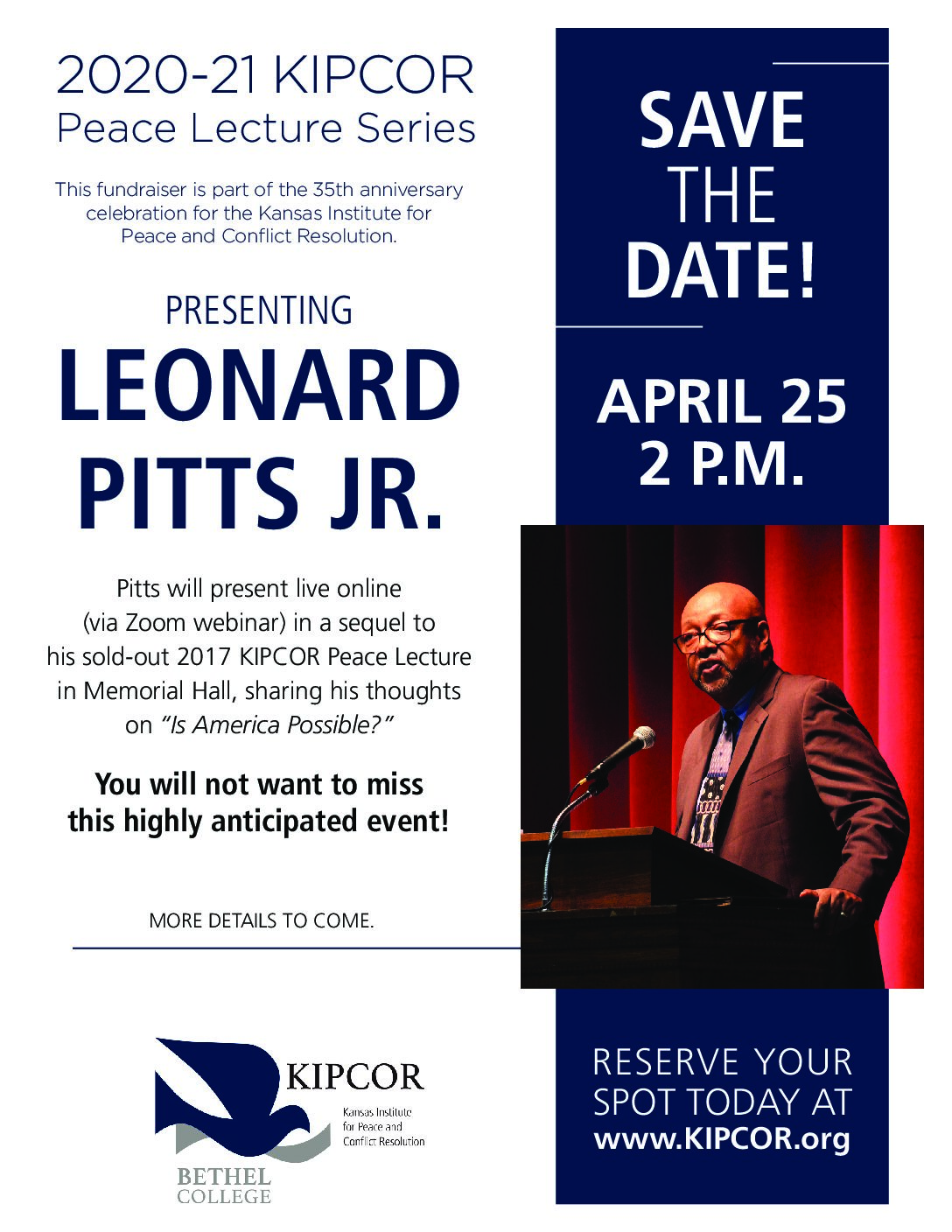 NOTE:  I have sent email links to everyone who registered before 5:00 PM on Saturday.  If you have not seen the link, it's either because it went to your spam/trash folder (I've been putting addresses in BCC to preserve your privacy) or because you registered with a bad email address (some of you did).  If the email bounced back to me and you gave a phone number when you registered, I'll call you to get a new email; if you gave me BOTH a bad email address and a bad or no phone number, I'm afraid there is nothing I can do.  If you can't find the email with the link in your spam or trash folders, register again and I will send the next email using the "To" function.
Leonard Pitts Jr.  will be our second Peace Lecturer of the 2020 – 2021 series.  He will be presenting live online via Zoom webinar a sequel to his tremendously popular 2017 KIPCOR Peace Lecture.  This year's topic will be, "Is America Possible?"  This is a highly anticipated event that you will not want to miss!  Mark your calendars for Sunday, April 25th, at 2:00 pm.  You MUST register to receive the link.  
This event will NOT be available to stream after the fact; it is a live presentation only at 2:00 PM (CDT) on Sunday, April 25, 2021.  Join us to hear this important presentation!!
This event is free of charge, but we WOULD appreciate it if you could help support our work and offset the costs involved in this presentation.  You can mail a check, made out to "KIPCOR", to:
KIPCOR
P.O. Box 276
North Newton, KS  67117
or go HERE to learn how to donate to KIPCOR online.
Thank you for your support!!