KIPCOR Film Series: "Citizen Ashe"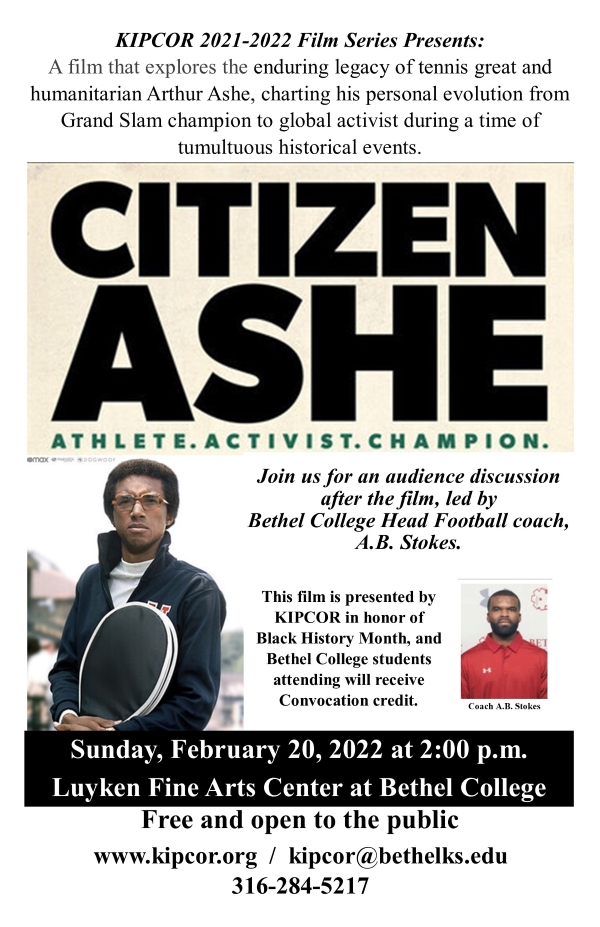 SAVE THE DATE!!
KIPCOR Film Series 2021-2022:
Sunday, February 20, at 2:00 PM
"Citizen Ashe"
Honoring Black History Month, we will screen the film live and in-person in Krehbiel Auditorium in the Luyken Fine Arts Center on the campus of Bethel College in North Newton.
Be sure to stay after the film for an audience discussion led by Bethel College Head Football Coach A.B. Stokes. Coach Stokes was born and raised in Chicago, and is a 2007 graduate of Sterling College.  He and his wife of 19 years have four children.   Coach Stokes returned to Bethel College after serving as the Content Pastor/Assistant Football Coach/Head Wrestling Coach at Lincoln Christian School in Tulsa, Oklahoma.  Coach Stokes served as the offensive coordinator and associate head Thresher Football coach from 2018-2020.  Coach Stokes has been influential in creating the foundation of the culture for Bethel College football today.
As always, our films are free and open to the public.  Students will receive Bethel College Convocation credit for attending this film. 
Citizen Ashe explores the enduring legacy of tennis great and humanitarian Arthur Ashe, charting his personal evolution from Grand Slam champion to global activist during a time of tumultuous historical events.  Directed by Rex Miller and Sam Pollard.
PLEASE NOTE that we will continue to follow Bethel College's COVID-19 guidelines, which currently require everyone to wear masks indoors for groups of 10 or more, regardless of vaccination status.
See you at the movies in February!!