KIPCOR 2020-2021 Film Series Continues – November 15 2020 – Cooked: Survival by Zip Code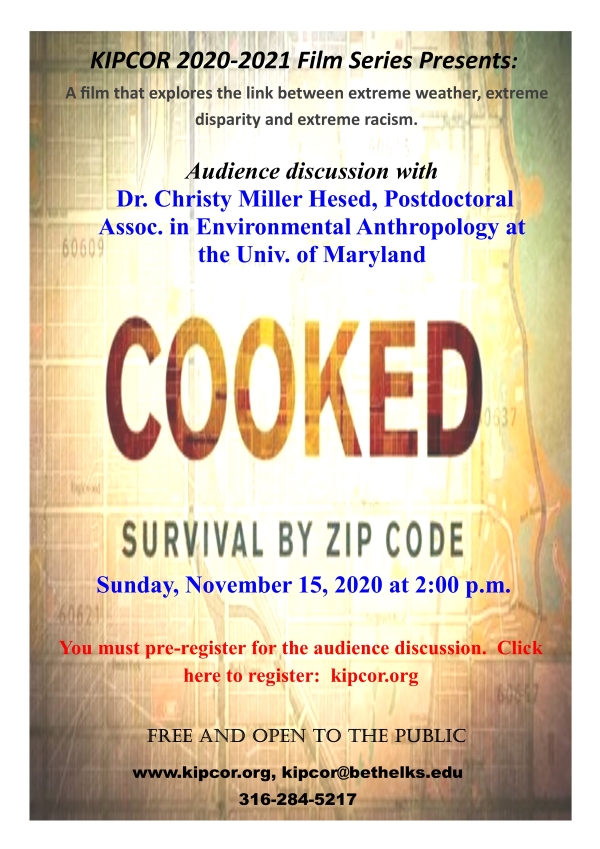 Join us as the
2020-2021 KIPCOR Film Series
 continues in a virtual format.  Our November film is "
Cooked: Survival by Zip Code,
" a multiple-award winning documentary that focuses on the deadly 1995 Chicago heat wave to illustrate how minorities and low-income citizens suffer the most negative impact from natural disasters.  The film is an indictment of our nation's disaster preparedness, and forges a link between extreme weather, extreme disparity, and extreme racism.
YOU MUST VIEW THIS FILM BETWEEN NOV. 8 AND NOV. 14 using this link and password:
On 
Sunday, November 15 at 2:00 p.m
., KIPCOR will host a virtual discussion of the film on Zoom with Christy Miller Hesed, a Hesston resident and Postdoctoral Associate in Environmental Anthropology at the University of Maryland.  
Click here
to register for the November 15 audience discussion and we will send you the Zoom information on the afternoon of November 13.