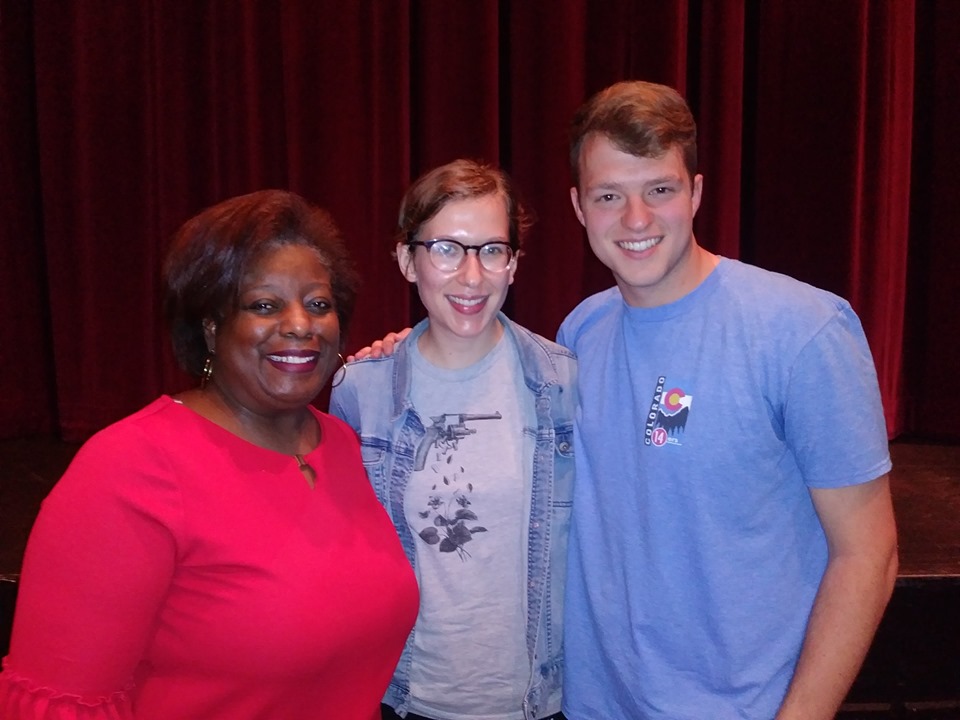 Senior Sarah Balzer has some ideas to share about voting, and they're not about ballot boxes or campaign promises.
For the second year in a row, Balzer was the first-place winner in Bethel's C. Henry Smith Peace Oration contest, which took place at the end of April, with the winners announced at semester's end.
Last year, Balzer's winning speech "Environmental Inequalities in the Age of Plastics" also won the bi-national contest.
Balzer is a senior from Inman, majoring in social work with minors in Spanish and peace, justice and conflict studies.
"A Voting Guide for Peacemakers Under Capitalism" has a simple message: In North America, in a capitalist economy, we vote for or against peace every day in how we spend our money.
Balzer's examples are the treatment of workers as dispensable and even less than human by a company that provides shipping services to giant corporations like Disney; the "fast fashion" industry (think H&M or Gap) that depends on cheap labor in countries like Bangladesh, where workers' health and safety get short shrift; and the same kind of corner cutting with health and safety that takes place in American companies such as Tyson Foods.
Don't support Disney when their subcontractor's policies threaten human rights, Balzer says. Buy your clothes from a local or regional producer or a thrift store, and your food locally wherever possible.
Balzer also calls for more direct action in support of peace, looking at how American Mennonites in the 20th century began moving from being "the quiet in the land" to raising their voices in state capitals and Washington, D.C.
When consumers use their buying power for leverage, they can force changes that benefit workers, she says.
"We must create a sense of shared responsibility for … injustices [like the examples given here]," Balzer concludes.
"We can all do our small part, buying our food locally, shopping at thrift stores, researching the companies we buy from, avoiding buying anything we don't absolutely need and speaking out against companies with unfair labor standards and unethical practices. When we take these small steps, we are using our vote to promote peace."
The second-place winner in the Bethel contest was Randall Schmidt, graduating senior from Lawrence, with "Medical Peacemaking: Sowing the Seeds of Peace."
Schmidt, whose immediate plans are taking him to Kenya with Mennonite Central Committee's SALT program and whose long-term goals include medical school and neonatology, talked about how providing health care to people affected by violence – whether through war, cycles of poverty or addiction, or systemic racism or sexism – is also a way of making peace.
"All of us need to learn about the violent structures that disadvantage people and bring them poor health, then work to address [them]," Schmidt said.
"Supporting the medical peacemaking of organizations like MCC, or promoting institutions that care for the health of the marginalized in your community, is a good place to start, as each is important in the development of peace."
The C. Henry Smith Peace Oratorical Contest is open to all students at Mennonite and Brethren in Christ colleges in Canada and the United States. To be considered for the contest, speeches must apply a peace theme to a contemporary concern.
Directors of the C. Henry Smith Trust established the contest in 1974 in honor of the late Mennonite historian and professor at Goshen (Indiana) College and Bluffton (Ohio) College, now Bluffton University.
Participating colleges host individual campus contests, usually during the spring semester of the academic year, and judges selected by Mennonite Central Committee choose the top three speeches from the winners of each campus contest.
Bethel College is the only Kansas private college listed in Washington Monthly National Universities-Liberal Arts section for 2018-19. The four-year liberal arts college is affiliated with Mennonite Church USA. For more information, see www.bethelks.edu
Bethel College does not discriminate on the basis of race, color, religion, creed, age, gender, sexual orientation, parental or marital status, gender identity, gender expression, medical or genetic information, ethnic or national origins, citizenship status, veteran or military status or disability. E-mail questions to TitleIXCoordinator@bethelks.edu